Science & culture at the Palais Royal 2017 – Exhibition "HEAVEN!"
As each year, the Royal Palace in Brussels opens its doors to the public in summer. This year, the visitors will be able to discover the exposition "HEAVEN!"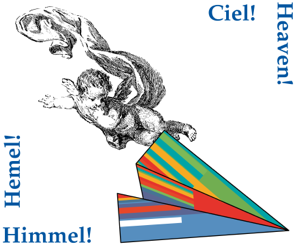 Royal Palace – Place des Palais/Paleizenplein – 1000 Brussels
Open from 22/07/2016 to 03/09/2016, from 10.30am to 4.30pm (last entrance).
Closed on Mondays
Free admission
Security checks are carried out at the entrance. It is highly recommended not to bring any large items (any types of bags and luggage).
Website (soon online): www.hemelciel.be
Since humans have walked the Earth they have been fascinated by the sky. Its light, its movement, its colours inspire artists. It is the eternal muse of writers and poets. Is it infinite? It sparks the curiosity of academics, it has inspired legends and our religions and pragmatic inventors try to conquer it.
Throughout the "Heaven!" exhibition, which is an initiative of Belspo, the ten Federal Scientific Institutes and the National Geographic Institute offer pieces that are representative of their collections and shed light on their research work, thus allowing visitors to rediscover the sky in all its aspects: works of art inspired by the sky, unusual objects, scientific observation or measurement instruments, video sequences, etc. Researchers from very varied backgrounds consider the sky in their own way, through their discipline, thus offering varied approaches that sometimes prove themselves to be complementary.
The Royal Observatory of Belgium will expose three objects of its museum collection, three armillary spheres designed by Jérôme de Lalande in the 18th century, and a surprising picture of the Milky Way composed with the Gaia satellite data.
A special homage to our colleague Dr. Jan Cuypers is given in the exhibition. As chief of the Information Service, Jan Cuypers had proposed the theme of the heaven/sky for this year. He also had contributed to the choice of the pieces of the Observatory for the exhibition, in collaboration with Hilde Langenaken. Dr. Jan Cuypers, as an astronomer, was also Project Investigator of Gaia. An In Memoriam is placed next to the map of the Milky Way and contains a short biography of Jan Cuypers.
The exhibition "HEAVEN!" is an initiative coordinated by Belspo, in collaboration with the Palais Royal of Brussels and the FPS Chancellery of the Prime Minister, and bring together the ten Federal Scientific Institutes: the General State Archives (ARA-AGR), the Royal Library of Belgium (KB-BR), the Belgian Institute for Space Aeronomy (BIRA-IASB), the Royal Meteorological Institute of Belgium (KMI-IRM), the Royal Institute for Cultural Heritage (KIK-IRPA), the Royal Belgian Institute of Natural Sciences (KBIN-IRNSB), the Royal Museum for Central Africa (KMMA-MRAC), the Royal Museums of Art and History (KMKG-MRAH), the Royal Museums of Fine Arts of Belgium (KMSK-MRBAB) and the Royal Observatory of Belgium (KSB-ORB). As in 2016, they are joined by the National Geographic Institute (NGI), the project's guest institution.
 For more information:
Press folder of the exhibition "HEAVEN!": http://www.hemelciel.be/doc/Press_en.pdf
Website of the Royal Palace http://open.monarchie.be/