Véronique Dehant received her Prix Quinquennal of the FNRS at Bozar
Véronique Dehant, researcher at the Royal Observatory of Belgium, has just been officially awarded the Dr De Leeuw-Damry-Bourlart Prize in Fundamental Exact Sciences, one of the five Prix Quinquennaux of the FNRS (Fonds de la Recherche Scientifique).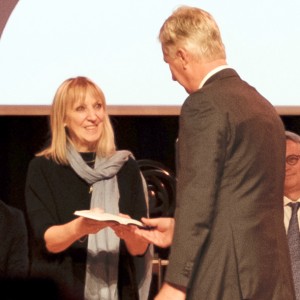 The award ceremony took place on Monday 4 October 2021 at 10:00 at the Palais des Beaux-Arts (Bozar), in the presence of King Philippe. It was the occasion to reward the five new laureates of the Prix Quinquennaux of the FNRS as well as the five laureates of the Excellentieprijzen of the FWO (Fonds Wetenschappelijk Onderzoek). The Prix Quinquennaux were awarded on 14 September 2020. Due to the sanitary restrictions caused by the COVID-19 pandemic, the official ceremony has been postponed to 2021.
The FNRS wishes, by means of these prizes, to honour every five years the exceptional work and careers of researchers from the Wallonia-Brussels Federation from various disciplines (exact sciences, biomedical sciences, humanities and social sciences).
The Prix Quinquennal of the FNRS awarded to Véronique Dehant underlines the importance of her work on the rotation and interior of the Earth, planets and moons, as well as her key role in the development of space missions and instruments such as RISE on board NASA's InSight mission and LaRa on ESA's second ExoMars mission, scheduled for launch in 2022.