Science & Culture at the Royal Palace 2019 – Exhibition "The Moon: between Dream and Reality"
The annual "Science and Culture" exhibition will take place this summer from July 23 to August 25 at the Royal Palace. The Belgian and international public will get the opportunity to admire an original selection of works of art and research instruments from the Belgian heritage. The theme of this exhibition is "The Moon: between dream and reality".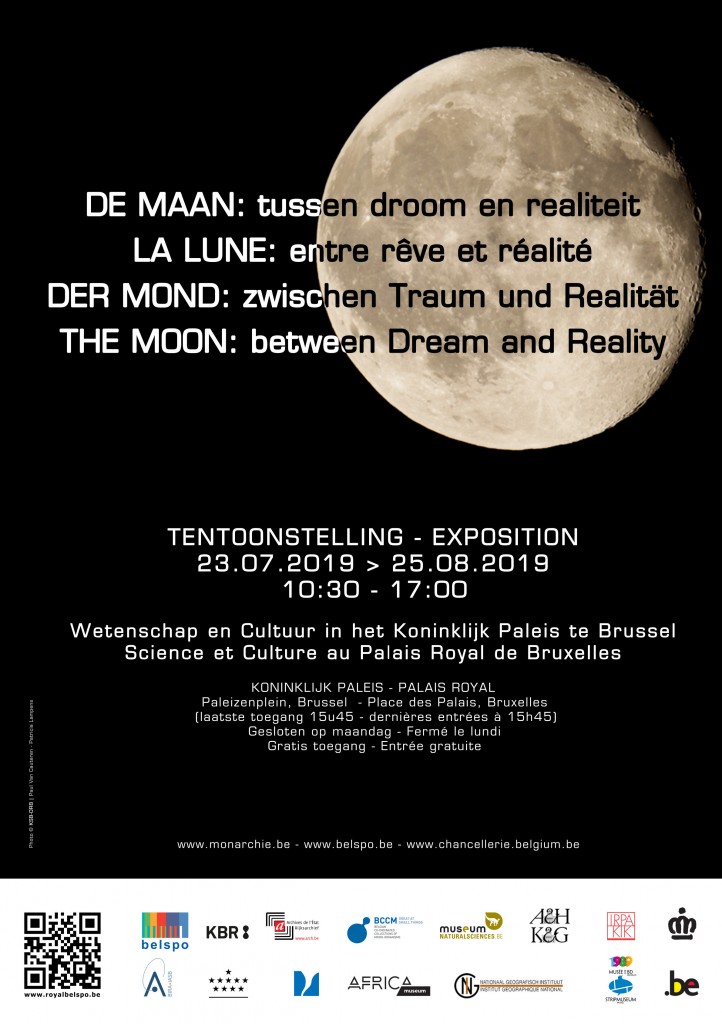 In collaboration with the SPF Chancellery of the Prime Minister, the Royal Observatory of Belgium and the nine other federal scientific institutes, the National Geographic Institute and the Federal Science Policy Office offer an original vision of art and science revolving closely or remotely around the Moon, the Earth's only natural satellite that captivated and still captivates humanity's imagination. This exhibition also enjoys the exceptional participation of the Belgian Comic Strip Center, which illustrated the route with Belgian comic strip panels of a "lunar" nature.
A photograph of the Moon taken by Paul Van Cauteren and Dr. Patricia Lampens, collaborators at the Observatory, had the honour to be used as a visual for the exhibition. The public will also be able to view three of their photographs of the Moon on site, one of which was taken during the total lunar eclipse on January 21, 2019.
Images of the Moon taken (from left to right) during the occultation of Aldebaran (Alpha Tau) on 23 February 2018, during the total lunar eclipse on 21 January 2019 and on 20 March 2018 (crescent moon). These images were taken on Humain, a subsidiary site of the Royal Observatory of Belgium. Credit: Royal Observatory of Belgium – Paul Van Cauteren and Patricia Lampens.
The Observatory will also exhibit a superconducting gravimeter, an instrument designed to measure gravity variations. These latter are influenced by, among other things, tidal forces, which are themselves generated by the Sun and the Moon. The Observatory has world-renowned expertise on Earth tides and gravimetry.
The displayed gravimeter, manufactured by GWR, is one of the first two superconducting gravimeters in Europe and operated from 1982 to 2000. It was illustrated by a greeting card drawn by Peyo at the end of 1982.
Practical information:
Royal Palace, Place des Palais/Paleizenplein, 1000 Brussels
Open from Tuesday July 23 to Sunday August 25, 2019 from 10.30am to 3.45pm (last entrance).
Closed on Mondays
Free admission
Security checks are carried out at the entrance. It is highly recommended not to bring any large items (any types of bags and luggage).
Website (soon available): http://www.royalbelspo.be/